BIBLE TRUTH MINISTRY On The Internet : Evangelist Larry Wolfe
"RAPTURED FROM WRATH"
Chapter One: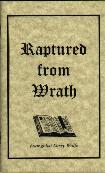 In I Thessalonians 5:9 God makes one of the most comforting and truly significant promises to the born-again child of God: "For God hath not appointed us to wrath, but to obtain salvation by our Lord Jesus Christ". This great promise of deliverance from the wrath of God is repeated in Romans 5:9: "Much more then, being now justified by His Blood, we shall be saved from (the) wrath through Him." This word 'wrath' is defined as "the strongest of all passions...a settled abiding condition of mind" by Vine in his Expository Dictionary. This attitude of anger does not manifest itself in uncontrollable, impulsive outbursts, but instead is a thought out resolved attitude resulting in calculated responses of vengeance through acts of judgment when God is the one demonstrating the wrath..........
INDEX:
The Wrath of God - What is it?
The Wrath of God - What it is Not?
The Wrath of God - When is it?
The Wrath of God - How Can We Know it is Near?
The Wrath of God - How is it Described? (pt. 1)
The Wrath of God - How is it Described? (pt. 2)
The Wrath of God - What is it's Purpose?
Business as Usual (The Days of Noah)
Business as Usual (The Days of Lot)
The Sending of Elijah
Confirming the Covenant
What's Next?
70-Page Booklet, "Raptured from Wrath", by Evangelist Larry Wolfe is available to anyone who wants to learn more about Pre-Wrath Prophecy. To receive a copy of the booklet, please send your name and mailing address to Rev. Larry Wolfe.

(A gift to help to defray costs is greatly appreciated.)
SEND YOUR REQUEST / GIFT TO:
Rev. Larry Wolfe
3015 Pelzer Hwy.
#16
Easley, SC 29642
---
Your prayer support is greatly appreciated and we ask you to pray that the Lord would continue to use this ministry for His honor and glory. Please feel free to contact us at any time with questions or comments.
prewrath1944@gmail.com
---
[HOME]
[CHRISTMAS] / [DISCIPLESHIP TOOLS] / [DOCTRINAL STATEMENT] / [FREE] /
[LINKS] / [MESSAGES] / [MY TESTIMONY] / [OUTLINES] / [PROPHECY] /
Permission is granted to print a copy of any article on this web site for yourself. But do not edit the articles. All copyright information and contact information must remain on each article. Please email us for permission to use the articles from our web site in any other way.
Copyright © 1997-2018 All Rights Reserved - Rev. Larry Wolfe